Keeping You safe - Corvid-19
Brynteg Glamping will be reopening on 13 July 2020.   We are delighted to let you know that we have worked hard to ensure everything is ready to reopen our doors safely and we can not wait to welcome you back.
We are 100% committed to ensuring the welfare and safety of you, our other guests and our colleagues and have implemented a number of carefully considered changes, to try and reflect best practices and government guidelines.  We are continuously monitoring developments and will not hesitate to make further changes should the need arise.
We are proud that our work has been recognised and we have been awarded the Visit Britain  "We're Good to Go Award"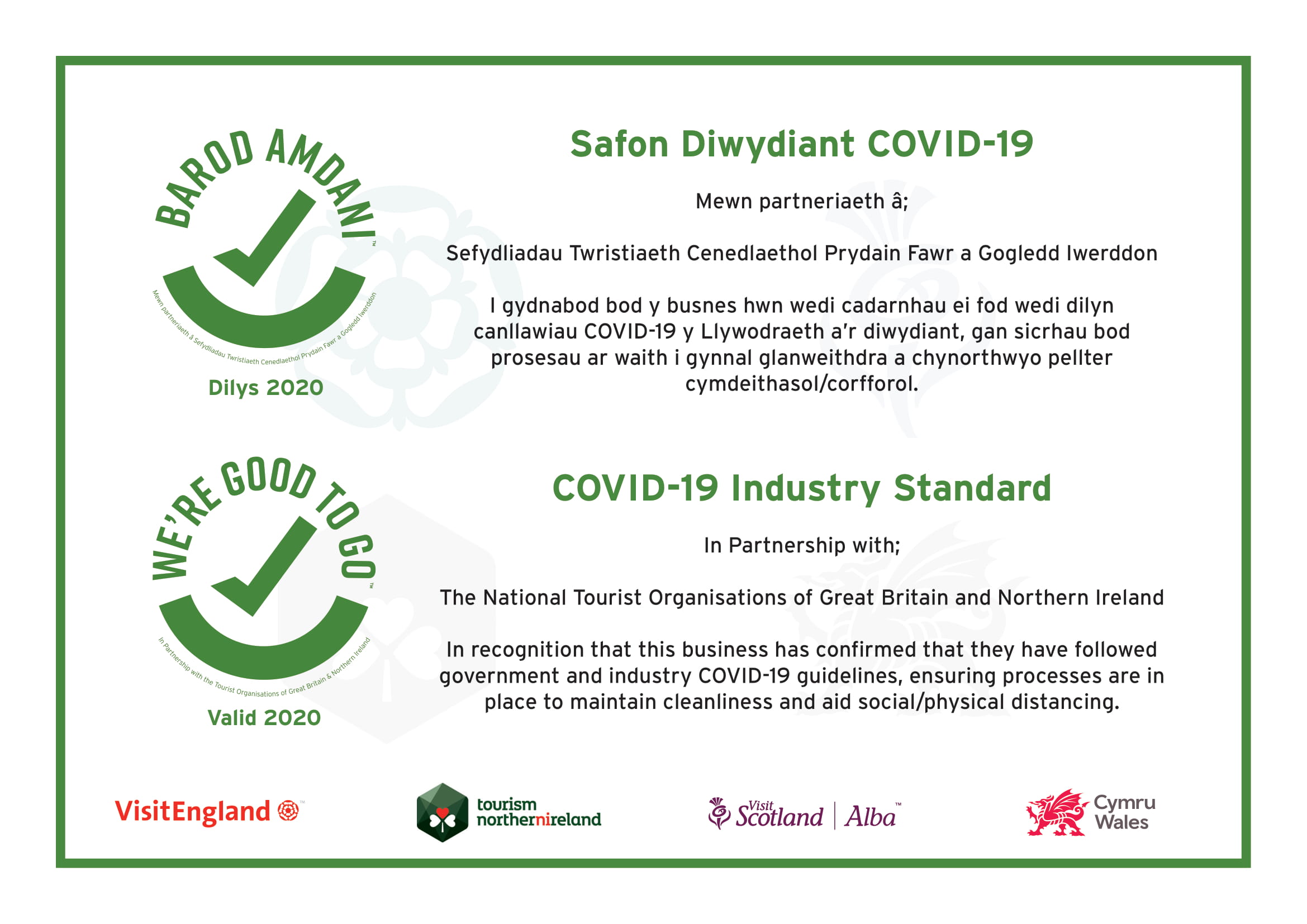 How the changes affect you
Before your Stay
We will Contact you prior to your stay to confirm all the arrival details.  We will ask you to provide certain check in information such as your full home contact details for each adult guest.  We also collect all outstanding balances.
We will also email you a document with as many details as we can collect of takeaway and restaurant information as we understand that you may wish to pre-book.
On Arrival
Please proceed directly to your allocated pod, which will be prepared and open ready for your arrival.   Please do not arrive before the allocated check in time as we have now additional cleaning to do and we will not be ready early.
Please unload your car parked on the track but then please park your car in the designated parking area, to ensure maximum social distancing around the pods.
We have installed hand sanitiser stations on all the pods and public areas and reception and we encourage the use of these.
We have removed all printed material from our pods, but in your pod you will find a single use guide, please dispose of this on departure.
We have been required to remove all scatter cushions and throws until further notice.
We have also had to remove our complimentary tea and coffee jars due to sanitation issues, if you have forgotten your supplies we will be pleased to assist you.
During your stay
You will have a phone number to contact us on throughout your stay.
An infra red thermometer will be available at reception to monitor any symptoms of guests and staff to try prevent a possible outbreak.
We will not enter your pod during your stay.
On Departure
A laundry bag will we provided in your pod.  We are required to ask you to strip the beds and put the dirty towels and bedding in the bag provided.
We ask that you remove all rubbish and put it the appropriate bins.  Please do not leave any personal items in the pods on departure.
Enhanced Cleaning and Hygiene 
Appropriate PPE will be worn by us and our colleagues.
Updated and detailed cleaning check lists, including Public Health Wales- accredited sanitisers for all areas will be used.   
All pods will be treated using anti viral fogger between guest.   All cutlery and crockery will be removed and cleaned at the highest setting on a dish washer between guests.
Social Distancing 
Our pods naturally lend themselves to social distancing , but we remind all guest of their responsibilities in this regard.